3 tags
Donor Story: Thanks Nathan!
Nathan was born with clubfoot.  Like in many cases, it didn't show up in the ultrasound.  While a shock, the biggest surprise for Nathan's family was how effective and painless clubfoot treatment has been. Nathan's feet at birth (Photo courtesy of F.A.L. Design) After beginning Ponseti treatment at four weeks old and wearing his brace for 23 hours per day for three months, just like...
2 tags
Meet the Staff: Richard
Meet Richard, our new Director of Programs!  Although Richard joined miraclefeet only a few weeks ago, he has already hit the ground running, visiting and assessing clinics in Nicaragua and China.  With a sharp sense of humor and knack for languages, Richard will continue to expand miraclefeet's programs and increase access to clubfoot treatment worldwide. Where are you from originally/where did...
4 tags
From Nicaragua: The Importance of Parents
"I feel good here because the doctor is very patient with my son.  That's so comforting for me as a mother, to see that they treat my child with affection and love."  -Bruce's mom Support from parents is so important to treating clubfoot.  While our partnering doctors and nurses thoroughly and efficiently treat patients, the real work happens at home. Kids must return for new casts each...
4 tags
Meet miraclefeet's Board of Directors
miraclefeet co-founder Bridget with the managing director of CURE International India Trust  We often share stories and updates about the incredible children, parents, nurses and doctors we have met across the world.  And we've even introduced you to several members of our office.  But who is at work behind-the-scenes, actively setting a meaningful course for the future of clubfoot...
4 tags
From Nicaragua: A Mother's Love
His mother traveled five hours by foot and crowded bus, skipping meals and fighting nausea, all to get her son treatment.   Wilder, now three years old, was born with bilateral clubfoot.  As an infant, he was casted to correct clubfoot in his hometown.  But there were no results, as is often the case when children are improperly casted.  Wilder's mother was hesitant to try treatment again. But...
4 tags
Blocks and Bars: Navigating the Public Health...
You feel an itch in your throat or a pain in an ankle.  You trek to the emergency room or make an appointment at the doctor's office, perhaps sitting for an extended time in a waiting room filled with magazines and fish tanks.  Such is the medical treatment process for many in the United States. But what is this same process like for people in Liberia or Mexico or even Peru?  Sadly, too often...
6 tags
STEPS Forward: A miraclefeet Partnership
"It's difficult to convey the emotion one feels when you see a child who has suffered from clubfoot walk normally. To see the look of hope and reassurance on mom's, dad's, aunty's, uncle's or even grandmother's face when they start to see results is something you get addicted to and to be a part of making that happen is just incredible. I foresee miraclefeet and STEPS...
5 tags
Crocs Rock Liberia!
Back in July of 2012, miraclefeet and Crocs partnered to ensure children recovering from clubfoot treatment in Nicaragua had proper footwear.  Now, Crocs is at it again, and this time in Liberia! Pictured below are some familiar faces (including Youkoi) in their brand new Crocs.     Crocs Cares' generous donation of their trademark rubber shoes to children in miraclefeet's clinics is so...
5 tags
New Clubfoot Program: First Steps in Ecuador
Six months ago, miraclefeet received an incredible grant from Ronald McDonald House Charities. We planned to use this $138,000 to establish clubfoot clinics in Ecuador, providing free Ponseti treatment to the nearly 3,000 children living with talipes in the country. And now those plans are becoming reality. Chesca and Lauren traveled to Ecuador this month to establish relationships with hospitals,...
2 tags
Meet the Staff: Leslie
Meet Leslie, miraclefeet's Office Manager and website extraordinaire.  When Leslie's not corresponding with donors and keeping track of our patient database, she's playing kickball and using her pilot skills to fly around North Carolina.  Leslie writing LOTS of letters to our amazing donors. How did you get started with miraclefeet? When I first moved to North Carolina I was looking to get...
5 tags
miraclefeet's Top Moments of 2012
As we look forward to 2013 and all that it will bring, we want to reflect on the triumphs, growth, support and new friends that 2012 saw.  So we asked everyone at miraclefeet to think of their favorite moment from the year, and we received all kinds of answers.  But they all had one common thread:  none of miraclefeet's work would be possible without the amazing support of our donors, followers...
4 tags
The Convention on the Rights of Persons with...
Two months ago, we took some time to reflect on International Day of the Girl, a day devoted to celebrating and advancing opportunities for girls across the globe.  We noted that for women living with disabilities, prospects for education and employment are particularly limited. But women aren't the only ones living with disability around the world: approximately 650 million people—10% of the...
8 tags
Meet Jatu, a clubfoot patient, and her family
Here is a family photo of little Jatu with her mother, Kema, her twin sister, and her brother Amos.  Jatu and her twin are 1 year and 7 months.  Her twin sister does not have clubfoot. They are the youngest of 5 children.  Jatu's mother Kema is blind.  Understanding the difficulties of persons with disabilities in Liberia, Kema worried that her daughter's clubfoot would prevent her going to...
4 tags
Inspiration from Liberia: Maima & Youkoi
Last week, miraclefeet program director Lauren returned to Liberia, where we first partnered with a clinic in August.  Now, four and a half months later, miraclefeet's partnering clinics in Liberia have seen and supported over 60 new patients.  Children that had no chance for treatment are now on their way to walking thanks to miraclefeet's supporters and partnering nurses and practitioners. Two...
4 tags
Exciting Update from Botswana
miraclefeet director Chesca is in beautiful Botswana, exploring how best to establish a clubfoot program in the region.  Working alongside amazing partners Steps South Africa and a mother from Botswana, Chesca sent us this exciting update from across the world: Chesca's Update from Botswana   "A great day in Gaborone for miraclefeet and Steps South Africa, spent with Tshepag...
4 tags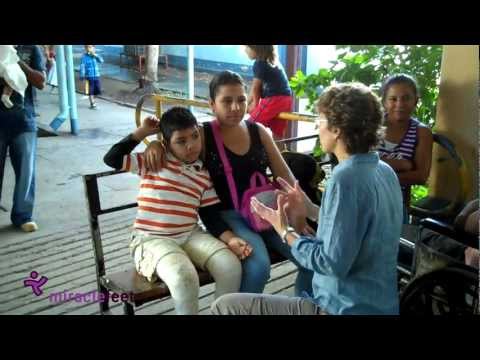 4 tags
Campaign to Watch: Shoes4Change
Scott and Drake are high school sophomores.  And they're selling shoes to give the gift of walking. miraclefeet provides clubfoot treatment to children in developing countries around the world.  This work reveals itself in a number of ways: from providing materials to sponsoring clinics to training doctors, nurses and counselors.  But none of this would be possible without the generosity of...
4 tags
International Day of the Girl
You may remember that last week, we celebrated International Day of the Girl and introduced you to our friend Blessing, a patient in miraclefeet's partner clinic in Liberia. But we want to go a little further and share with you why that day was so important.  A lot has been written about the disadvantages women experience across the globe, particularly in developing countries, where...
5 tags
Meet the Staff: miraclefeet interns
miraclefeet wouldn't be the same without its amazing interns.  It's time you get to know them! Joss Warren, Intern, Indian Programs: University of North Carolina Career Goal:  I want to become a doctor and hopefully work overseas in some kind of medical and public health capacity. Best part about interning with miraclefeet: My favorite part of interning with miraclefeet is how...
4 tags
Jorgito Update: Healed Feet and Happy Faces!
Remember Jorgito?  We first met him back when miraclefeet Program Manager Lauren was visiting our partnering clinic in Nicaragua. Everyone is so excited for Jorgito's transformation, no more so than Lauren who has watched him throughout this journey:  "Seeing Jorgito walk, slowly but surely, and giving him a high five, seeing how happy he and his parents were, reminded me of how amazing and life...
5 tags
5 tags
miraclefeet + Ronald McDonald House Charities =...
Been wondering how miraclefeet plans to spend the $138,000 we received from Ronald McDonald House Charities?  We want to tell you!   WHAT: As you may know, this July miraclefeet was the recipient of a $138,000 grant from Ronald McDonald House Charities (www.rmhc.org).  RMHC intends their grants be used to provide health care education, training and resources to health care professionals in Latin...
3 tags
From the Field: The miracle Always Happens
"That's the thing about working this job day in day out. You know the miracle will happen, but every once in a while, a kid will really drive that home as remind you how amazing it is."   -Lauren Wall, miraclefeet Program Manager Lauren's back in Nicaragua, and this time, she shares with us a story about an amazing child named Jorgito: Jorgito is a young boy born with clubfoot, who...
Ironman Athlete Competes for Children Born with...
Tony with his son, both were born with clubfoot. How did you find out about miraclefeet? When I began my triathlon endeavors, I spent a lot of time online researching "clubfoot" athletes and especially triathletes with clubfoot. I did not find any information online. I discovered that being an athlete at this level with post-clubfoot surgery was rare. I started a blog desperate to find other...
3 tags
From the Field: Managua, Melvin & MaryLou
miraclefeet Program Manager Lauren sent us an update from Nicaragua, where she's been checking in on one of miraclefeet's clinics!  Here are her experiences so far: I got to spend the day in our partner clinic in Managua, Nicaragua.  Sweet Melvin (pictured above) came in for his 3rd set of casts for his bilateral clubfeet which had never been treated before this year.  Melvin is 7 years old.  I...
3 tags
Training for the Future in Liberia
Meet Arthur, a nine year old clubfoot patient at miraclefeet's partner clinic in Liberia.  Arthur went to the clinic to have his feet treated, but he's about to become part of something even bigger than himself. Dr. Olayinka Adegbehingbe is a Ponseti expert in Nigeria.  He is using his expertise for humanitarian causes, working to institute the Ponseti Method across western Africa.  Together,...
1 tag
Design thinking to help reverse a difficult...
Soccer champ Mia Hamm was born with it. So were figure skating star Kristi Yamaguchi and Green Bay Packer and Heisman award winner Charles Woodson. The "it" to which we refer is clubfoot, a congenital deformity that occurs in one out of every 1,000 live births around the world. The feet of babies with clubfoot grow at a severe inward angle, and without treatment this makes walking very difficult....
3 tags
4 tags
Story Behind Photo of the Day: Marli and Me
Pictured above is Marli, a nurse in Sao Paulo, Brazil and a special friend to miraclefeet.  Marli began working with clubfoot patients over a decade ago and has since committed herself to treating children suffering from talipes.  Marli doesn't just help patients for a day though—she heals them for a lifetime. The Ponseti method, the gold standard treatment for clubfoot in developing countries,...
4 tags
Story Behind Photo of the Day--Two Steps Forward...
Pictured above are three very special friends of miraclefeet—(from L to R) Augustine, Elizabeth and Eric.  The story really begins with Augustine Chiewolo.  Augustine worked in an orthopedic clinic in Liberia, where he witnessed the debilitating effects of clubfoot.  Inspired to act, Augustine flew from Liberia to Philadelphia, a city home to many Liberian expats.  With no money to get to...
3 tags
Meet the Staff
Meet Lauren Wall, our Program Manager.  Lauren is constantly thinking of ways to improve our programs, website and social media.  She has built wonderful relationships with both the doctors in miraclefeet clinics around the world, as well as many of the patients.  In fact, we are always wondering a little bit if she's going to bring a few patients back with her!  Here's what she had...
6 tags
2nd Annual Run a Thon
During the summer of 2011, track and cross-country coach Tim Black had an idea. Black was born with clubfoot and had received treatment as a child. He went on to lead a healthy life including multiple marathons. He decided that he and his cross-country team at Ashland High School would do a 24-hour Run-a-Thon and raise pledges in their community, donating the proceeds to miraclefeet. On...
5 tags
Story Behind Photo of the Day--A Father's...
Pictured above is a mother with her infant child, a talipes patient at the miraclefeet partner clinic this June in Nicaragua.   Initially, this mother was bringing her daughter to get casted at a local hospital.  But soon, her husband, a nurse, sensed that something was not right with his daughter's castings.  He and his wife decided to pull their baby from the hospital treatments.  A risky...
2 tags
1 tag
miraclefeet featured on Wandering for Good!
A big thanks to Stephanie and Wandering for Good for their kind donation and sweet blog about us! Here's what she wrote and her conversation with miraclefeet's Executive Director, Chesca Colloredo-Mansfeld. We've made it through a couple of hard-giving weeks but this week we're back on track to hear from a cause that used our #give10 donation last year to help a child born with...
3 tags
Fatima
Recently I posted a photo on Facebook of a 15 day old little girl named Fatima, in Managua.  She was getting her very first casts. Fatima was brought to the clinic by her mother and aunt - they showed up towards the end of the clinic.  Fatima was just 15 days old and had bilateral clubfoot.  Dr. Sequeira asked her mother if she had been told why her child's feet were turned and she started...
3 tags
3 tags
1 tag
3 tags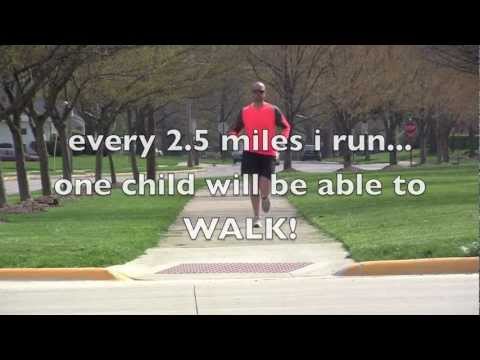 3 tags